This article contains basic information about editing invoices in Wavebid.
Editing Invoices
Invoices that do not have any payments applied to them can be edited.
Invoices that have full or partial payments applied cannot be edited until the payment(s) are removed. See Payments for more information. Changes made to the auction settings, fees, clerking, premiums, etc. will not be reflected on an invoice with payments applied.
Fees and Buyers Premiums and taxes can be edited directly from the invoice. Please see the corresponding articles for information on make changes to those items.
Re-clerking a lot is the best way to change the hammer price or remove a lot from an invoice. Clerking a lot as "Reserve Not Met" or "Pass" will remove it from an unpaid invoice.
If indirect changes have been made that impact unpaid invoices, such as lots being re-clerked or changing the Buyers Premium at auction level, invoices may need to be refreshed before those changes will be visible. To refresh all invoices, click the Refresh button in the top right corner of the page.

The amount of information that appears on the invoice pertaining to the lot itself is determined by the Invoice Settings.
Invoice Notes Field
The Notes field can be used to make internal notes pertaining to the invoice or bidder. These notes will not appear on the invoice, regardless of whether it is printed or emailed.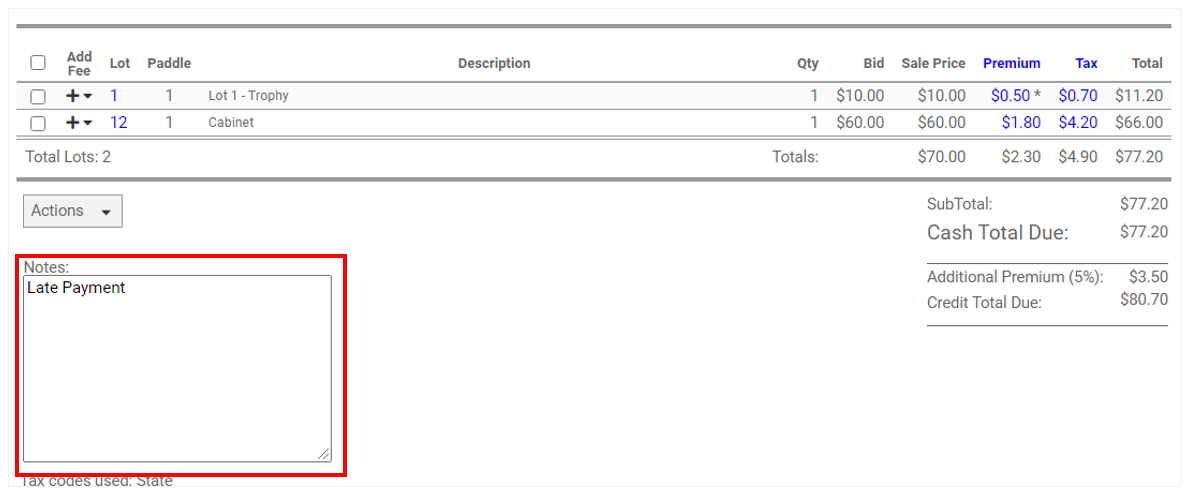 The information will, however, appear in the Notes column of the Checkout Summary Report and the Invoices page (Accounting > Invoices) if the column is enabled. To enable the column, click the Columns button on the right side of the Invoices page and click on the Notes column header. Column headers in blue are not currently visible, while column header in white will be visible.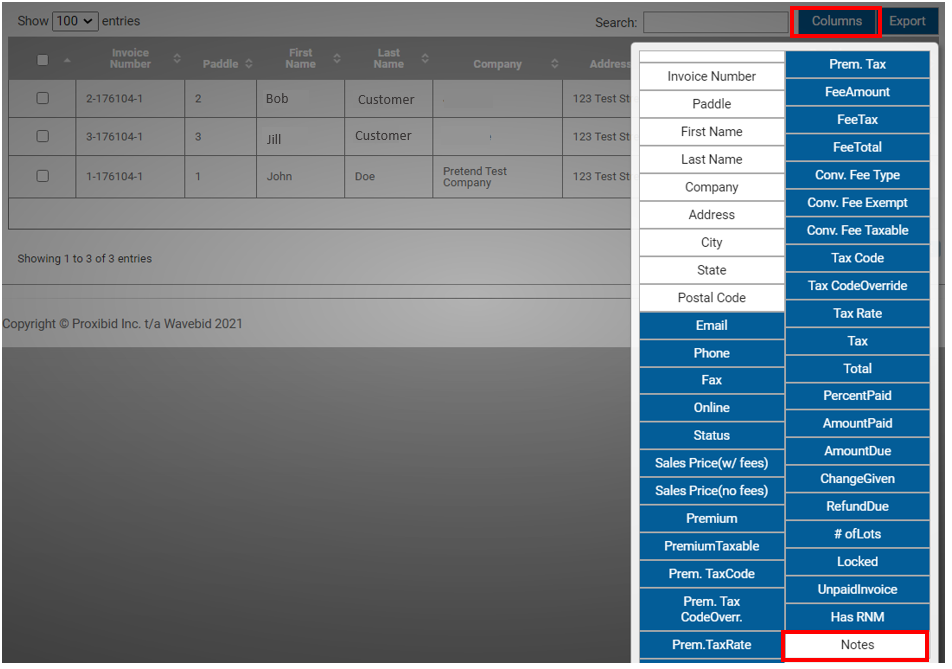 For more information on managing the Invoices page, see Managing Invoices.