This article describes processes for locating and changing seller settlement settings, as well as turning off seller settlements.
Adjusting Seller Settlement Settings
Turning off Seller Settlements
Locating a Seller Settlement
Select the appropriate auction from the Dashboard and navigate to Accounting > Seller
A list of all the Sellers registered for that auction will appear.
Select the appropriate Seller. To quickly locate a Seller, begin typing their name into the Search bar. This will filter the Seller list.
Once a Seller is selected, the Seller Settlement will appear.

If clicking on a seller does not open the Seller Settlement, click the Arrow icon in the top right corner of the page to turn on Seller Settlement processing. Once processing has been turned on, clicking a seller should open the Seller Settlement.
Adjusting Seller Settlements
Navigate to the Seller Settlements page for the appropriate Seller
Changes can be made directly on the settlement, including expenses or credits by clicking Add Expense or Add Credit (Example in Video - 2:07)

These can be billed to specific lots, or sellers
All sellers can be expensed or credited by percentage

Payments can be added from the settlement Example in Video - 2:52

Click "Add Payment"
Select payment method, and process as needed

The settlement summary box on the bottom will update as numbers change
On the top of the seller settlement page, click on the gear from this list, different filtering options are available to make the settlement shorter or longer
The settlement can be printed from the array of buttons as well, using the print button
Turning Off Seller Settlements
If invoices are loading too slowly, turning off Seller Invoice Processing may help.
Wavebid has Clients running auctions with thousands of lots and dozens of sellers, and this feature has been found to be very useful for those companies.
1. When on your Dashboard Navigate to Auction > Edit Settings for the desired sale.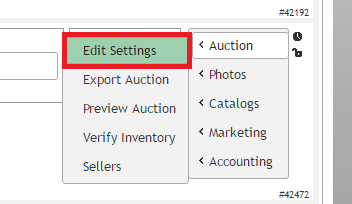 2. Navigate to the Invoices Tab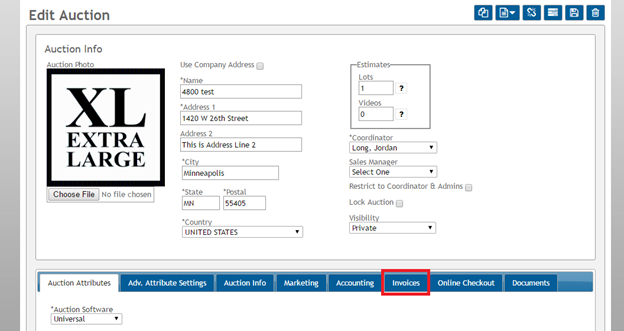 3. Check the Stop Processing Seller Invoices

4. This will cause the Seller Summary Report to look slightly Different as well
Before (the box is checked)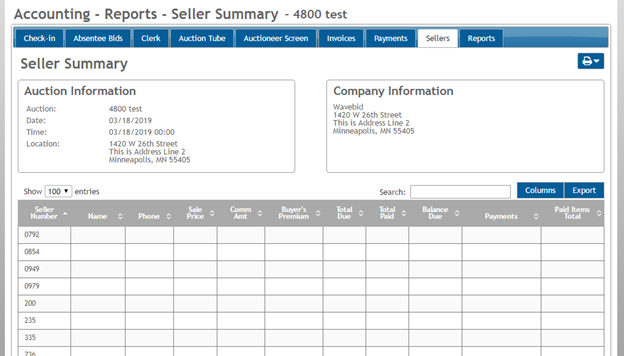 After (the box is checked)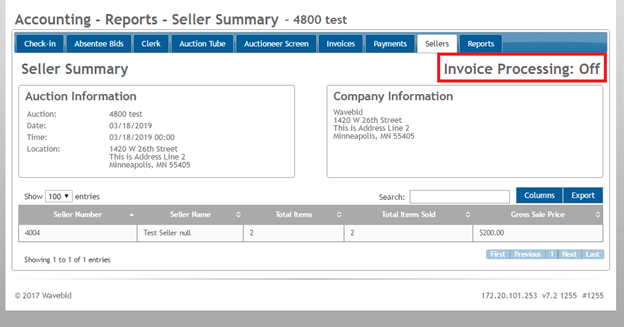 By Making these changes your Invoices should process more quickly, and lead to a faster checkout process. The feature can then be turned off, and you can process your seller invoices at a later time.
Emailing Seller Settlements
Once you've completed your auction you may want to email your consignors/sellers a copy of their settlement. This feature will allow you to email a PDF copy of the settlement.
Initial Setup:
1. Setup a custom email template for seller settlements. (Note: You must be the company admin user role) Wavebid comes with a default seller settlement email template, so it will use the default one if you haven't created a customized version.
Navigate to My Links > Company > Accounting Settings > Admin Email Templates
Create a new Email template and change the Type to "Seller Settlement"
Give it a name and add any notes for this email template
Configure your email template utilizing a combination of static text and dynamic variables that are available.
Example: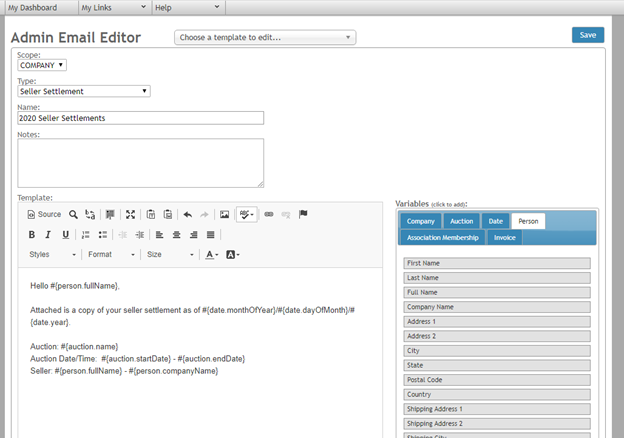 2. For each auction, select the template that you'd like to use for emailing of seller settlements.
Select the email template you created by going to Auction > Edit Settings > Invoice Tab > Select the Seller Settlement Email template that you'd like to use for this auction.
If you don't select one of your custom email templates, the system will automatically use the Wavebid default template.
If you'd like a template to automatically be selected for every auction you create moving forward, this can be set as a preference on your company profile: My Links > Company > Profile > Preference Tab >Seller Invoice Tab > Select the template from the drop down for Default Seller Settlement Email Template.
Email Individual Seller Settlements
1. Go to the individual seller you'd like to email for the specific auction. (Accounting > Sellers > Click on the seller)
2. The columns on the PDF that will be emailed are currently not configurable. We have plans to make this configurable in the future. The columns are:
Lot Number
Inventory Number
Title & Description
Lot SubTotal
Commission %
Lot Net
If the settlement contains Expenses, Credits or Payments they will also be displayed on the PDF.
3. Click the Email Button & Email Seller Settlement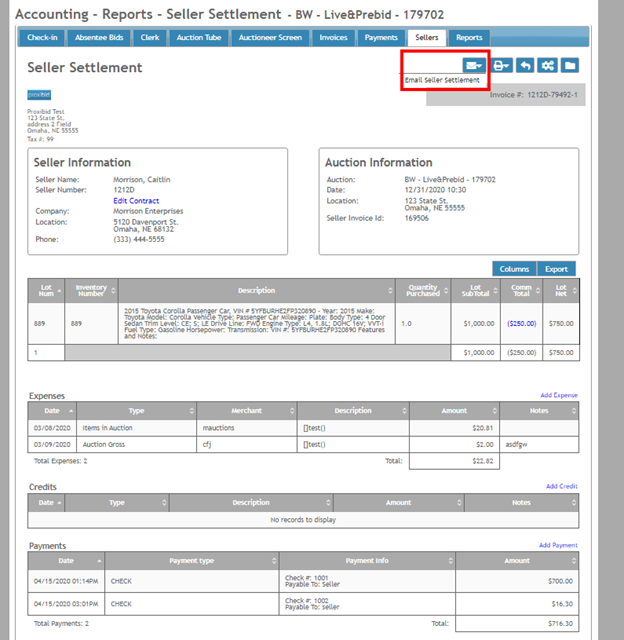 There is an option for Email Seller Settlement (To Multiple). If this option is selected, the email will still get sent to the seller plus any additional emails you enter into the text entry box (use commas if adding multiple email addresses). The additional emails will show up in the TO field on the email that is sent.
If your seller doesn't have an email on file you will be notified.
4. You will receive a notification that the email has been logged in the Outgoing Email Report in case you want to check its status.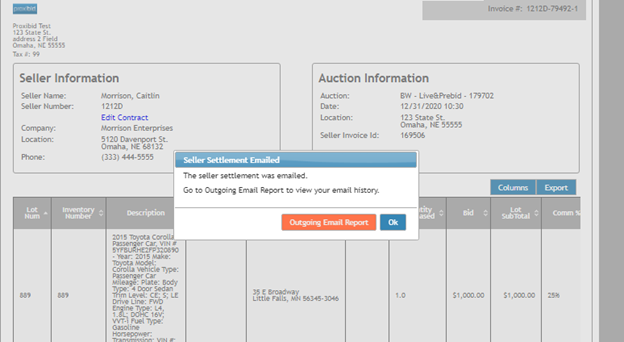 5. The email has been sent to the seller utilizing email template that have been established and will include a PDF attachment.
Other related resources: