Wavebid allows for configuration of a wide variety of catalog, clerking, accounting and reporting preferences for each auction. Auction settings allow companies to control almost every aspect of the inner workings of their auction. This article outlines the various options and settings in the Auction Settings tab. For information on creating an auction or editing auction information, such as the date, see Create an Auction.
There are eight tabs available based on how the Wavebid Administrator has activated a company's tools. This section outlines details on all eight tabs; with three (*) starred as optional features for certain users.
Auction Attributes Tab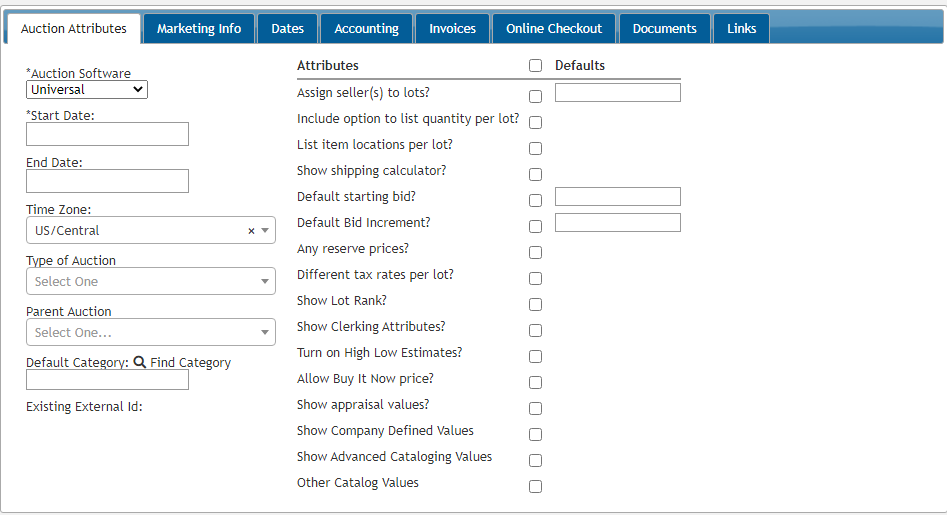 The fields on the left relate to specific settings for the auction itself:
Auction Software:

Sets the bidding platform of your choice. See Bidding Platform articles for more.
Auction Preview Page

-

Set to Scrolling or Pages view for Lot Number column in Auction Preview.

Start Date: Sets event start date and time. This will control workspaces moving from the dashboard's Upcoming to the Active tab.

End Date: The end date and time the auction This will control workspaces moving from the dashboard's Active to the Completed tab.
Time Zone:

The time zone for the auction.
Default Category: Sets default category for the lots in the auction. Applies to lots created using Lot Builder.
External ID: This field assists in linking your auction workspace to outside bidding platforms.
The Attributes and Defaults will either be listed on the right side of the Auction Attributes tab, or will be listed under the Adv. Attribute Settings tab, depending on how a company was set up by their Wavebid Administrator. The Attributes and Defaults control specific settings related to the cataloging of an auction. The default for all settings will be off.
Of these attributes described, the pair that you will use the most often are Assign seller(s) to lots? and Include option to list quantity per lot?
Assign seller(s) to lots?: Option to have track sellers/consignors on your event. For more information, see Seller Management.
Include option to list quantity per lot: Set more than one item per lot. If it is not enabled Wavebid will assume every lot is only one item.
List item locations per lot: Option to enter different locations for the lots in case it's a separate location than the main address of the auction site.

Show shipping calculator: Do not use; this feature has been discontinued.

Default starting bid: Bids for lots will start at this amount.
Default Bid Increment: Bids for lots will increment with this amount. Information entered in this field will only export to companies using LiveAuctioneers. Companies using other bidding platforms may need to contact their Account Representative to alter bid increments.
Any reserve prices: Ability to enter reserve prices for lots.
Different tax rates per lot: Enable the ability to apply a different tax code to a single lot, overriding the tax code being applied to the entire auction.
Show Lot Rank: Whether to categorize lots by rankings.
Show Clerking Attributes: Set specifics about how an item is to be clerked ahead of time.
Turn on High Low Estimates: Set high amount and low amount estimates for lots.
Allow Buy It Now price: Set a sell price for a lot.
Show appraisal values: Set amounts for the appraisal value of a lot.
Show Company Defined Values: Show the list of fields defined for your company. Find more information here.
Show Advanced Cataloging Values: Enable the entry of additional information regarding the lot itself.
Other Catalog Values: Set additional fields for the lot and keep them separate from other cataloging values.
Marketing Info Tab
The Marketing Info tab controls information for certain websites and bidding platforms. Anyone can use these fields for tracking purposes.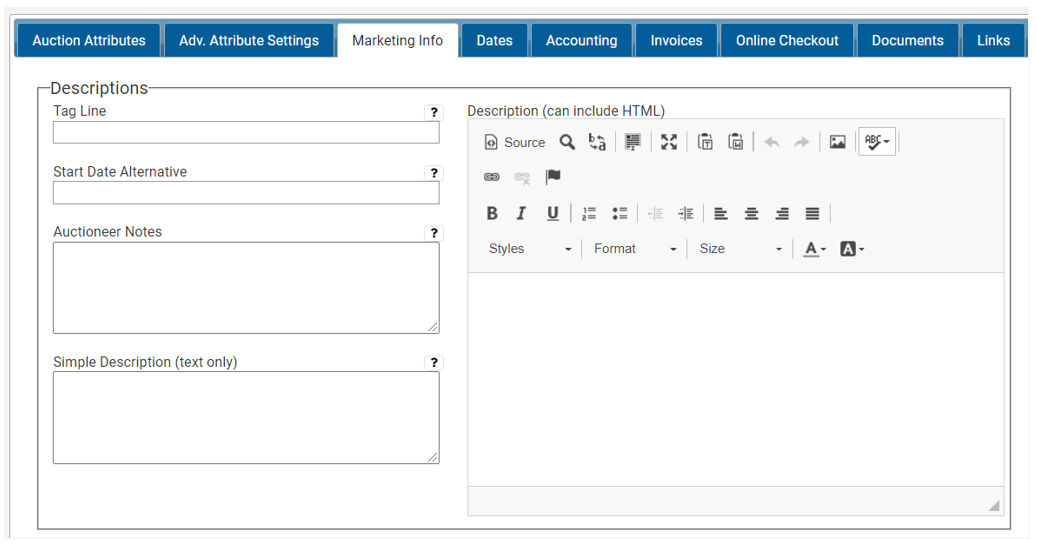 Tag Line: A non-html optimized field acting as a subtitle or catchphrase for the auction's marketing.
Start Date Alternative: A non-html optimized field displaying a substitute for the Start Date listed under the Auction Attribute tab.
Auctioneer Notes: A non-html optimized field for notes for the auctioneer about selling methods for marketing purposes.
Simple Description: A non-html optimized field for the description of the sale.
The remaining fields of the marketing tab will be HTML optimized, allowing the contents to contain markup.
Dates Tab
These settings are only applicable when using Wavebid's i3 WordPress plugin.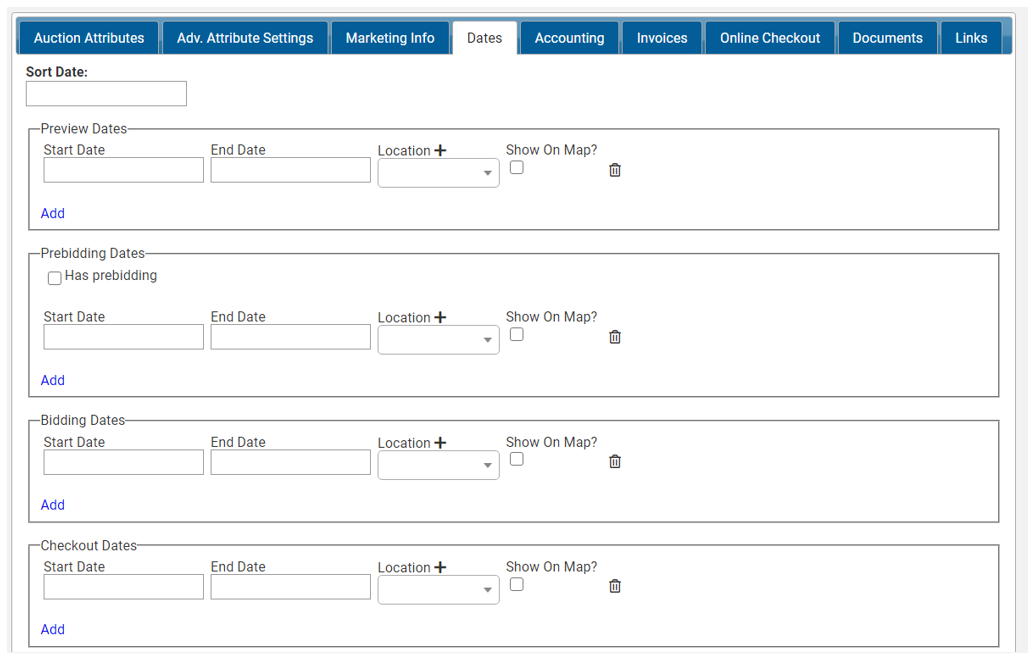 Type of Auction: Set to Live, Simulcast, or Online.
Auction URL: The URL for the auction in the bidding platform.
Auction Registration URL: The URL to register to bid in the auction in the bidding platform.
Sort Date: The position the auction will appear on the website, overriding the position from the Start Date.
Preview Dates: Enter a start date and an end date.
Prebidding Dates: Enter a start date and an end date.
Bidding Dates: Enter a start date and an end date.
Checkout Dates: Enter a start date and an end date.
Accounting Tab
The Accounting tab controls one of most important tabs related to your workspace. As one of Wavebid's core strengths, these settings can save you hours of manual accounting work.
The Premiums & Invoice Fees and Taxes sections will adjust your buyer's premiums based on several different options and needs. Taxes will allow us to track tax codes automatically needing charged to our events. Learn more on this tab here.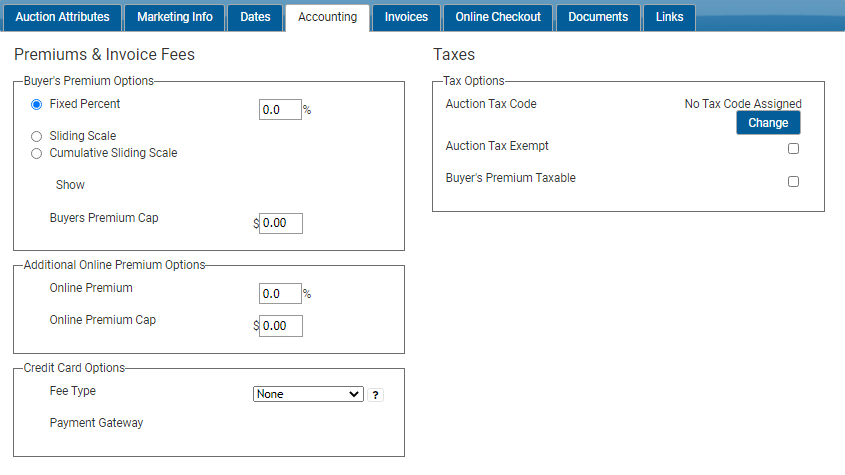 Buyer's Premium Options
Additional Online Premium Options
Online Premium: A fixed percentage charged on invoices to bidders flagged as being "online".
Online Premium Cap: A limit the amount charged for Online Premium.
Credit Card Options
Fee Type: Determines how the Credit Card fee will appear on the invoice.

Additional BP:
Convenience Fee:
Cash Discount:

Payment Gateway: Select between payment gates enabled in Partner Management.
Tax Options
Auction Tax Code: Select one of the tax codes created for the company.
Auction Tax Exempt: Sets the auction as tax exempt in its entirety.
Buyer's Premium Taxable: Sets a tax for Buyer's Premium in addition to taxes for the hammer price of an item.
Changes made to the options above will only impact invoices that do not have any payments currently applied. Invoices that already have payment transactions applied to them will not be updated until payments are removed.
Invoices Tab
For information on Invoice Settings, see Wavebid Invoice Settings.
For information on Invoice Templates, see Managing Invoice Templates in Wavebid.
Online Checkout Tab
You can add different questions when a client pays their invoice online. This requires the use of a payment gateway.
Documents Tab
PDF documents can be added to the sale and made available for download. For additional information, see Hosting Documents on a Website. These documents will only be published out to marketing partners, Ignite 3, and AS4 sites. Documents will be held in Wavebid but will not be pushed out to any bidding platforms.
Links Tab
Enter a URL for the Bid Now and Registration buttons.
For custom links, enter the name for the button into the Label field.
Enter the button's URL into the URL field.


Click the Add link to include more links.
Click the Trashcan icon to the right of the link to delete.
Links will appear in the order listed here. To rearrange, click and hold the Move icon and drag and drop until the links are in an ideal order.

Click the Disk icon in the top right corner of the page to save.
Confirm that the links are functional from the auction website.
If auction or auction registration URL's are not added, users who clicks "Go to Auction" will be directed to a Wavebid page instead of going directly to bidding!
HINT: You may need to post your auction again for the links to take effect. For AuctionZip, return to the Marketing Tasks page and Post to AuctionZip.