This article describes the general layout of the Wavebid site, including the Dashboard, and where to find an auction's Workspace ID. For information on logging into Wavebid, including resetting a password, see Wavebid Basics.
Wavebid Main Page

For each company using Wavebid, views will possibly be different based on the tools being used. However, each user will have:
The Dashboard main link on the top of the page.
The options available through the My Links drop-down menu.
The support options available through the Help drop-down menu.
Dashboard
Wavebid's Dashboard is the main hub for auctions, inventory and activities. A company's Wavebid plan determines which tabs are visible on the Dashboard. For more information, please contact a Wavebid Administrator.

Upcoming Tab: Auctions with future Start Dates.
Active Tab: Auctions with current Start Dates.

This tab will contain all auctions where the Start Date is the current date. Once the auction End Date is reached, the auction will move to the Completed tab. If an End Date is not set, the auction will automatically be moved at 23:59 on the Start Date.

Completed Tab: Auctions that have a Start Date within the last 90 calendar days.
Auction Vault Tab: After 90 days, completed auctions will automatically be moved from the Completed tab into the Auction Vault. Once here, they can be searched in a variety of ways:

Keyword: A keyword is any word that appears within any of the lot descriptions.
Auction: Select from the auctions that have been created so far.
Coordinator: Load auctions based on the Coordinator that managed the auction within Wavebid.
Date Range: Enter a Start Date and an End Date. Any auctions matching these parameters will be shown.

Inventory Tab: This will display the inventory workspaces that have been created under an account. Inventories are a useful way to catalog lots if there isn't immediately an auction to sell them in. The inventory is just a workspace that will hold the catalog information until it's ready to be moved to an auction. Visibility of this tab depends on the company's Wavebid plan.
Appraisal Tab: Visibility of this tab depends on the company's Wavebid plan.
Search Tab: Use keywords to find lots within any company workspace, whether they are auctions, inventories, or appraisals.
Workspace Basics
Auction Workspaces
The Dashboard displays an overview of the auction:

Auction Name
City and State where the auction is being held
Name of the auction Coordinator
Start Date and End Date of the auction
Auction Site/Software
For more information on any of the above auction details, see Auction Settings.

The number of photos uploaded to the event.
The number of lots with descriptions.
The number of PDFs and Videos uploaded to the event. For more information, see Lot Builder.
A countdown to the auction Start Date.
The date, time, and status of the last Auction Export.

Auction Menu for navigating to the Auction, Photo, Catalog, Marketing, and Accounting settings for the auction.
Quick icons to the right of the Auction Menu:

Clicking the Clock icon will immediately end the auction.
The Padlock indicates whether the auction is currently locked or unlocked.
Click the Person/Checkmark icon to immediately check-in all of the company's Permanent Sellers.
The Person/Padlock icon indicates that the auction is only visible to the auction's Coordinator and any company Admins. For more information, see Create an Auction.

The auction's Workspace ID is in the lower right corner (ex. #169252)
Inventory and Appraisal Workspaces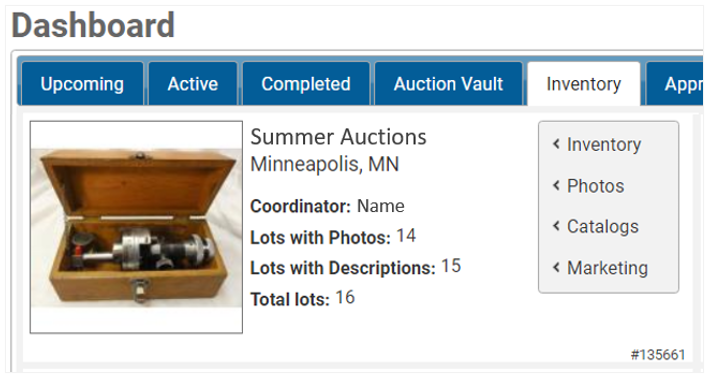 Inventory and Appraisal workspaces contain information similar to auction workspaces:
The Inventory/Appraisal name and location
The Coordinator's name
The number of lots with descriptions, the number of lots with photos, and the total number of lots. This information automatically updates as the inventory changes.
Menu for navigating to the Inventory/Appraisal, Photo, Catalog, and Marketing settings for the workspace.
The Workspace ID is in the lower right corner
Workspace IDs
When contacting Wavebid, one of the most useful pieces of information a company can provide is the Workspace ID of the auction, inventory, or appraisal they are currently working with. Providing this information to Wavebid Support right away will help them to assist faster and more efficiently. The Workspace ID can be found in multiple places:
On the Dashboard, in the bottom right corner of each workspace section:



Within a workspace, in the top right corner of the page:

On the Auction Settings page, in the bottom left corner of the Auction Attributes tab:

Related Articles: