Proxibid and Wavebid have an integration that allows users to export a catalog and photos directly, re-export changes to a catalog, and pull in sale results directly from Proxibid to Wavebid. This article describes the process for linking the accounts and exporting auctions from Wavebid to Proxibid.
Linking an Account
The linking process between Wavebid and Proxibid only needs to be done once. When linked, proceed to connecting your auctions.
An auction will need to be created in Proxibid prior to obtaining linking information.
Click Bulk Loader and select the listing from the dropdown menu.
Click the Get Wavebid Linking Information link at the bottom of the page.

The page will then load a Company ID, Auction ID, and Token.

Copy all three pieces of information for the first connection.

Only the Auction ID will be needed for future listing connections.
With the assistance of a Wavebid Company Administrator; link Proxibid to Wavebid.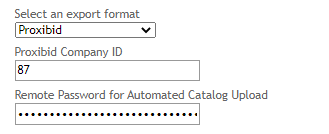 From the Dashboard, select My Links > Company > Cataloging Settings > Export.
In the Select an Export Format drop-down, select Proxibid.
Type in the Company ID obtained from Proxibid.
For Remote Password for Catalog Upload, enter Proxibid's token.
Click the Save button on the top right of the page.
Connecting an Auction
Connecting an auction will be needed for every workspace that needs integration abilities to Proxibid.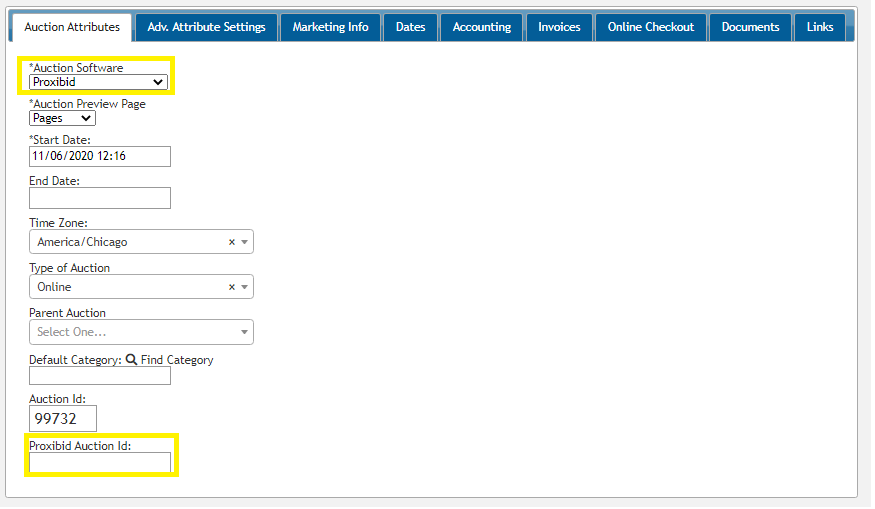 From the Dashboard, navigate to Auction > Edit Settings.
In the Auction Attributes tab change the Auction Software drop-down to Proxibid.
In the Proxibid Auction ID box, type in the Auction ID number obtained from Proxibid.

This Auction ID cannot be used for multiple Wavebid auctions.

Click Save In the top right corner of the page.
Exporting Auctions to Proxibid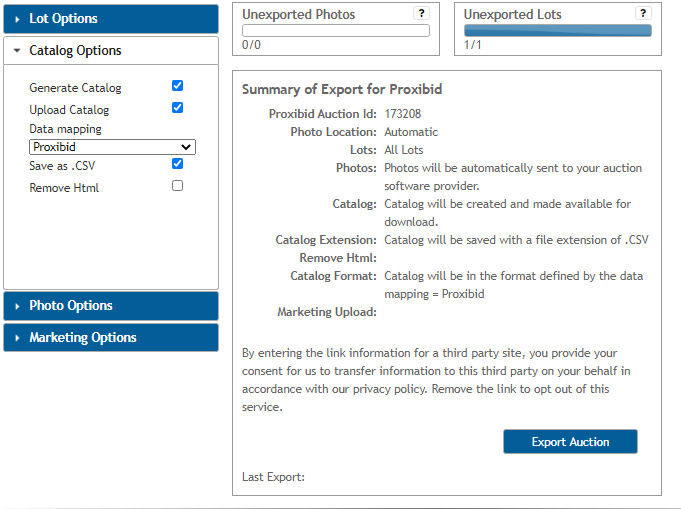 From the Dashboard, navigate to Auction > Export Auction
Review the export options to confirm they are these defaults :

Proxibid only allows exporting the entire catalog file.

Generate Catalog is checked,
Data Mapping should be Proxibid
Save as .CSV is checked.

Zip Photos is checked
New Photos Only is

not

checked.

Other options can be enabled, if needed.

Lot Options
Catalog Options
Photo Options

Click Export Auction.
View the progress of the file creation through the Export Monitor. Once the CSV has been posted, the catalog will immediately become available on Proxibid even if the pictures aren't transferred yet.
NOTE: New lots can be added and existing lots can be updated, but any deletions should occur in Proxibid if lots have started collecting pre-bids.
Special Considerations
The Proxibid integration requires using the default Export Catalog option data mapping. If custom mapping is selected, there is a risk not all of the lot information will be transferred over.
Please allow time to process and create the lots in their servers based on size and time of the export.