Wavebid offers the ability to manage Absentee Bids on upcoming auctions. This article describes the process for registering, entering, and tracking Absentee Bids.
Registering Absentee Bidders
Confirm that the Absentee? paddle option has been enabled during Bidder Check-In. This option is what allows Absentee Bids to be entered for a bidder. Click the Disk icon in the top right corner of the page to Save.

Entering Absentee Bids
Once a bidder has been registered as absentee, Absentee Bids can be entered.
Navigate to the applicable auction from the Dashboard, then select Accounting > Absentee Bids.
Use the Find Customer field to search for a bidder by first name, last name, address, or paddle number.
Enter the Lot Number in the drop-down under the Lot # column.
Enter the bid into the Amount field. If this absentee bid will take priority over other Absentee Bids, check the Tie Break? box.
If there is more than 1 item available, enter the number of items being bid on into the Qty field.
Check the checkbox all the way to the right of the lot.
Click on the Actions button under the bid table and select Save Selected. The saved Absentee Bid will turn green. Pressing the Enter key while the keyboard cursor is in any of the entry boxes, will automatically save the bid. This process will need to be repeated for each buyer for every lot that has an Absentee Bid. To delete an Absentee Bid, click the Actions button and select Delete Selected.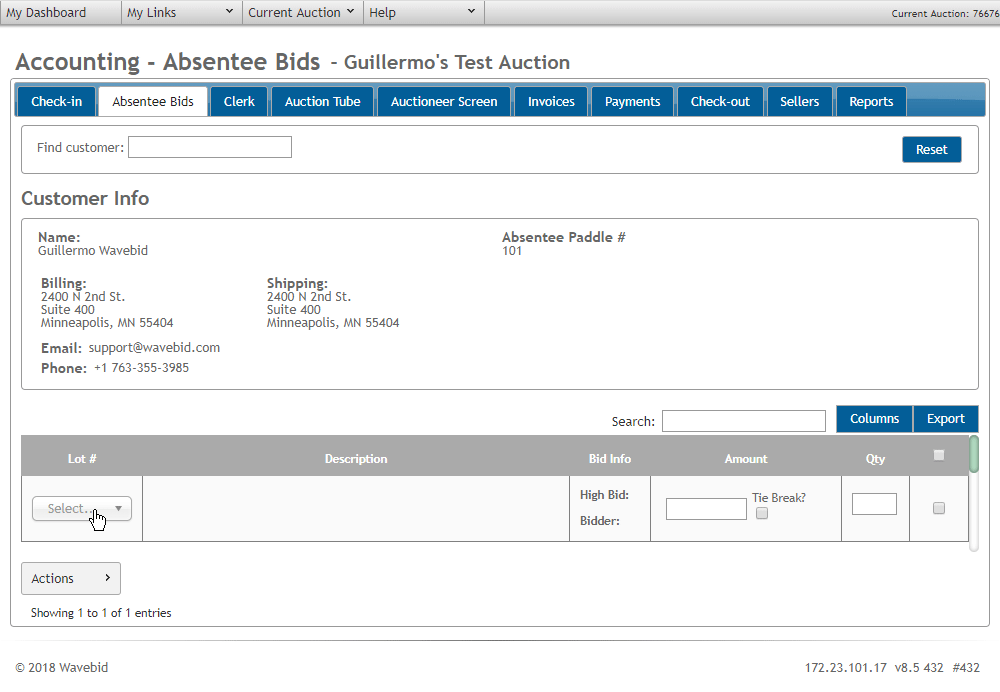 Clerking Absentee Bids
The clerking process for the auction will remain the same as usual. Enter a lot number and it will appear in the clerking grid. Then enter the information for the winning bid. Absentee Bids information will be listed under the Title/Description column.

In the example above, there is an Absentee Bid for $75 from Paddle Number 4. To the right of that bid is the lower Absentee Bid of $50 from Paddle Number 1. The first bid has been set as the tie breaker so it is given priority on the interface.
Once the winning bid is determined, enter the information into the Winning Bid and Buyer fields.
Absentee Bid Reporting
There is a report available under Accounting > Reports > Absentee Bids that will show all of the current bids for an auction's lots. This report does have some functionality available:
Filtering:

Show all bids
Show only the winning bids
Show only High & Backup bids

Click on the

Email icon on the top right to email all bidders, winners only, or non-winners only.
As with any other data tables within Wavebid, the Columns button can be clicked to adjust the visible columns. The Export button can be clicked to download the report in a variety of formats.