Document Builder ("Docbuilder", for short) is a tool that lets companies generate documents from a template that is then automatically completed with information from elsewhere in Wavebid, like customer information. This provides flexibility for document creation for a variety of situations, such as: Auction Proposals, Seller Contracts, Bidder Guidelines, and even Appraisal Reports (when using Appraisal Builder Pro). Once the template is saved, it can be used to generate as many documents as needed without having to start a new document from scratch every time. Document Builder is only available to users who have also signed up for Appraisal Builder Pro (ABP).
This article contains the following sections:
Document Builder Basics
---
When using this tool, the template contains information that will be used in the document, such as:
The sections to be included in the document.
The look and feel of the text in the document.
What images are to be included by default.
Placeholders for images to be uploaded by the user.
What information is included with the document from the very start.
What information the user will need to choose or enter after the document is created.
To access Document Builder, navigate to My Links > Company > Document Builder > Admin.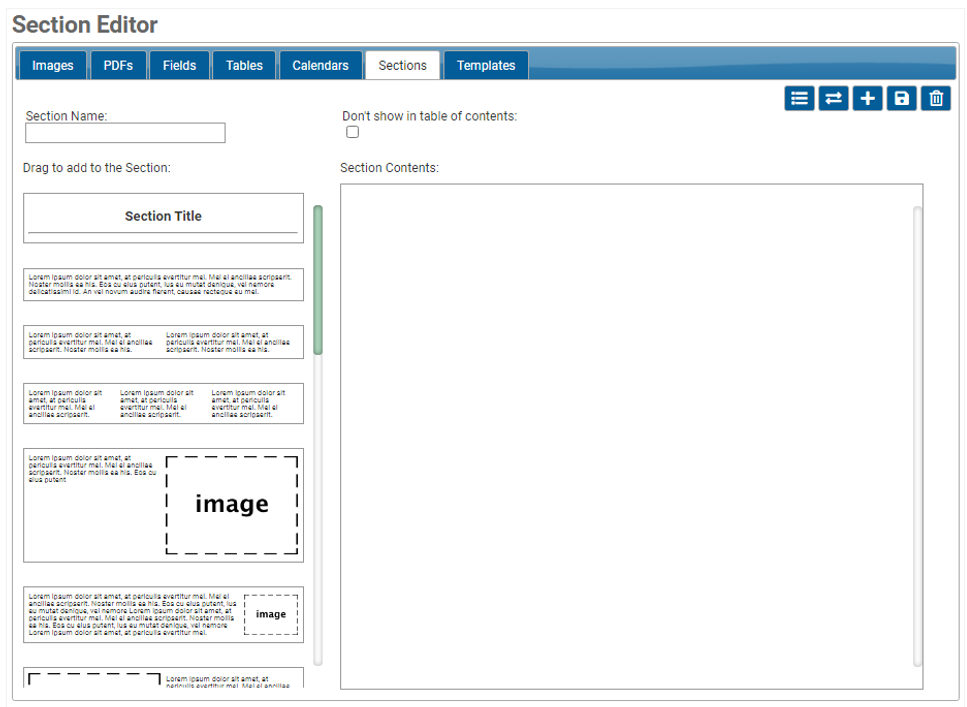 Each of the sections below will elaborate on the different tabs within the Document Builder tool.
Fields Tab
---
For more information, see Document Builder: Fields.
Sections Tab
---
Sections are containers for blocks of text that can be saved as part of a template, allowing them to be reused repeatedly across templates. Sections can be created from scratch by adding blocks, or they can be copied from existing sections. For more information, see Document Builder: Sections.
Blocks
They are fragments of text that can include fields, headers, pre-written paragraphs, columns, tables, or images. The text can then be formatted whichever way is preferred and Docbuilder has pre-built blocks to save you time and effort.
Templates Tab
---
Each template can generate as many documents as needed. For more information, see Document Builder: Templates.
Creating Documents
---
Documents are the last stage of the Docbuilder process. They are generated from any global or company template available in your account. Once the document exists you can modify it through the document editor, entering data required by the fields. Once this process is complete you can create the finalized document in PDF format.
My Links > Company > Document Builder > Documents
When working with documents it is important to remember that all customizations will not flow back to the template, including the addition of fields, blocks, or sections.
Through this page you can see the documents that you have created so far, regardless of the workspace they happen to be in (Auction, Inventory, Appraisal). This lets you open the document editor for a specific document quickly without first going to a workspace.