This article describes what exporting is and provides links to specific steps users should take to export a catalog.
This article contains the following sections:
About Exporting
---
Exporting is used to send a catalog from Wavebid to an integrated Online Bidding Platform. In most cases, catalogs can be exported more than once to reflect any changes that may have been made after the initial export.
While a catalog will begin exporting right away, how long an export takes to fully process can vary greatly, depending on the size of the catalog and the number of photos in the catalog. Catalogs with a large number of photos may take up to an hour to fully export.
Once an export has been initiated, users can navigate to the Export Monitor page to view its progress and determine if any errors occurred with the export.
Once an export is complete, users may need to refresh their catalog on the applicable Online Bidding Platform to see any updates that have been made.
Exporting a Catalog
---
Catalogs are exported by navigating to the applicable auction from the Dashboard and selecting Auction > Edit Settings and then clicking on the Export tab.
Catalogs can also be exported from Auction > Export Auction.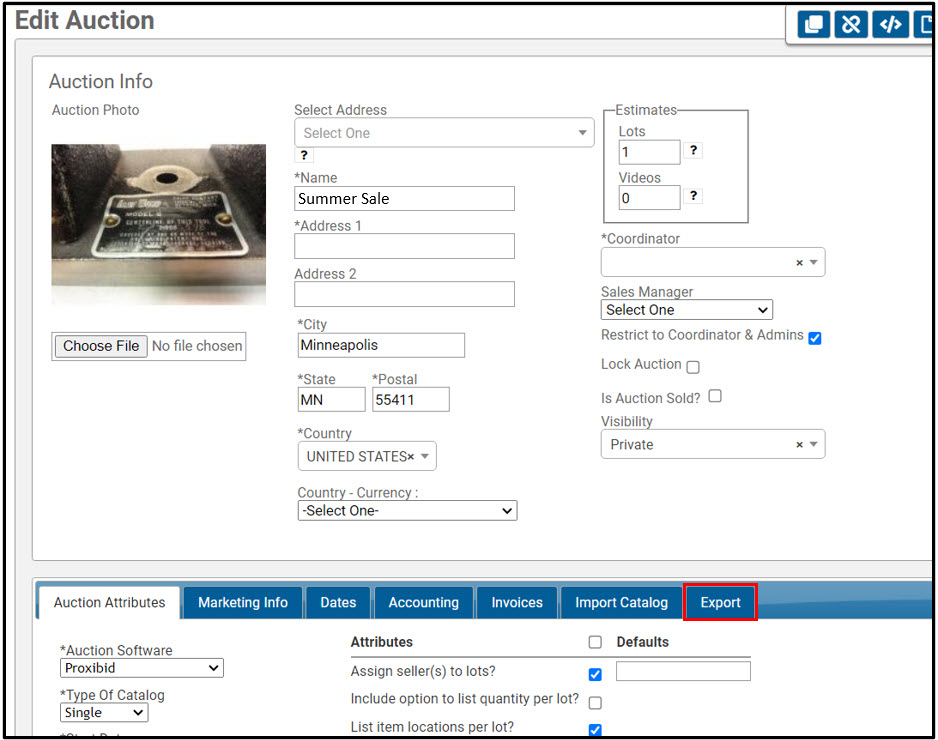 The specific steps taken to export an auction can vary, depending on which Online Bidding Platform the catalog is being exported too. Each Online Bidding Platform has its own help article with a section describing the export steps for that platform. A list of integrated platforms can be found here.
If a catalog needs to be exported to an Excel file (spreadsheet) to be saved or imported to a platform not integrated with Wavebid, users can perform a Universal Export.
Downloading an Export
---
Once an export is complete, its files will appear on the right side of the Export page.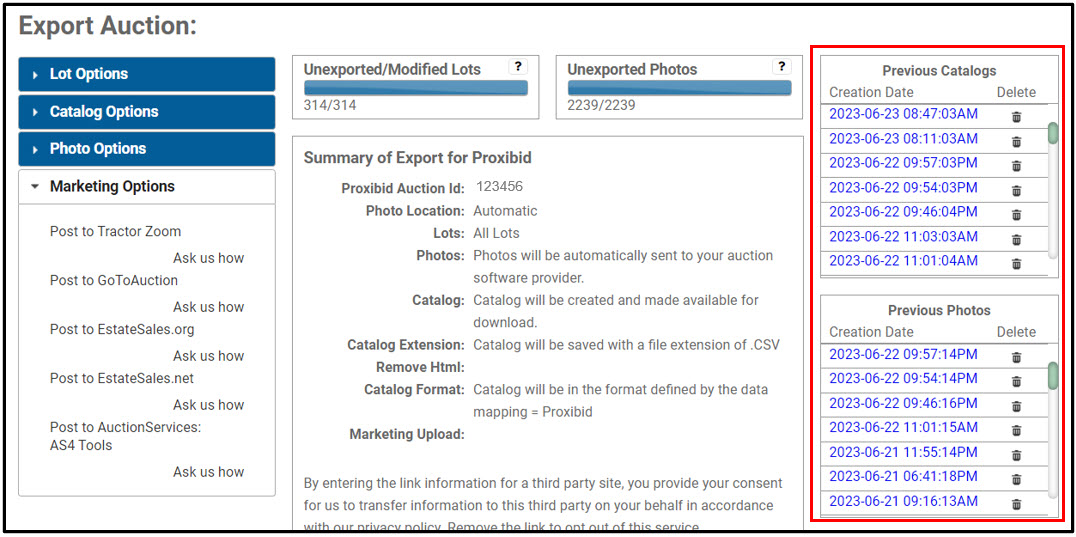 Previous Catalogs: Results in a .CSV

(comma-separated values)

file in plain text that can opened with spreadsheet software. Download the file by clicking on the blue timestamp link.
Previous Photos: Results in a ZIP file containing all of the photos for the auction's lots except for photos labeled as barcodes. Download the photo ZIP file by clicking on the blue timestamp link.
Files are named according to the date and time the export server was finished creating the file. There is no limit to the number of export files that can be created.
Troubleshooting
---
Punctuation Issues
Punctuation issues may appear in a catalog when the operating system's characters use different coding than those recognized by the auction platform. As a result, the punctuation may be converted into question marks once the catalog is exported to a bidding platform. This generally occurs with commas, apostrophes, and quotation marks. For more information, see Catalog Punctuation Issues.
HTML Isn't Displaying
If the bidding platform does not accept HTML, or it is not displaying correctly, navigate to the Export Auction page and check the Remove HTML box under the Catalog Options and export again.
There Was a Problem While Exporting the Auction
If exporting a specific lot or lot range, verify that the lot number(s) entered match the lot number(s) in the catalog exactly. For example, if the lot number in the catalog is 0001, then the lot must be entered as "0001" on the export page. Entering the lot number as just "1" will result in an error.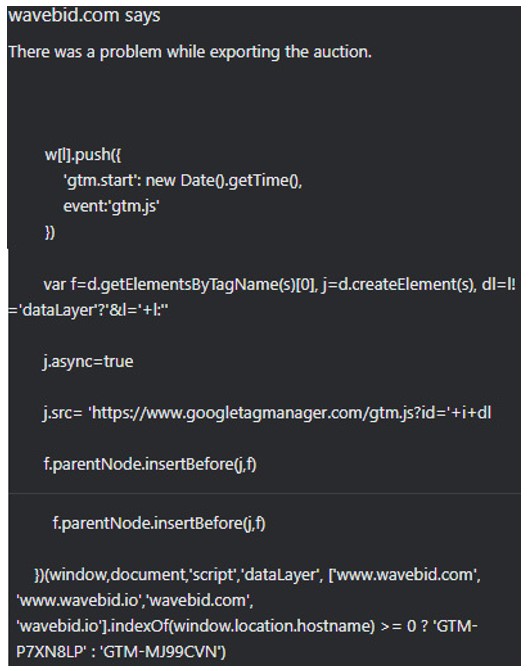 Access Denied
"Error 15: Access Denied. This request was blocked by the security rules."
This error may be due to poor internet connection and/or caching. Clear browser cache, close all browser windows completely, re-open the browser (Google Chrome) and attempt to export again. If issues persist, please contact a Wavebid Administrator.
Related Articles: